Medina Softboards
Regular price
Sale price
$5.00 USD
Unit price
per
Sale
Sold out
View full details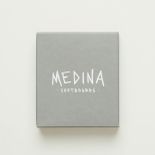 Medina Softboards ecological wax
Contains raw materials of pharmaceutical, cosmetic and food grade.
It can have contact with food free of heavy metals and other toxic substances and purified USP mineral oil of pharmaceutical grade.
Natural ingredients such as vegetable and mineral resins.
Natural mint oil as fragrance, without artificial essences to give the aroma as they contain many toxic substances.
The packaging does not contain plastic.
The black and gray colors of the waxes are the result of the addition of cosmetic grade dyes.
The production method does not produce waste
It does not pollute and does not burn the skin. The waxes are high performance, developed, tested and approved by Gabriel Medina. They work for all types of boards and especially softboards.